Sidebar, finally.
Our #1 feature request since the beginning of the alpha program is here.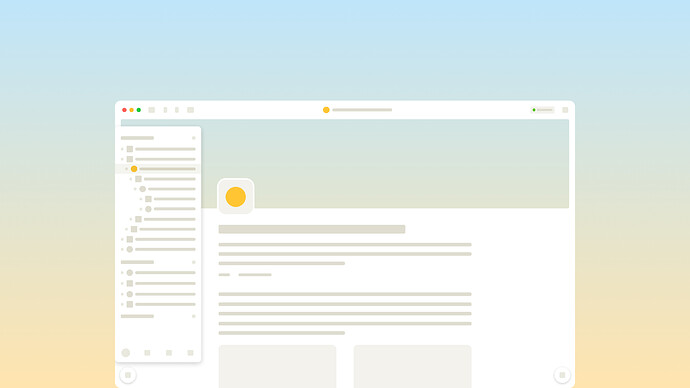 The tree-view sidebar shows outbound links and relations for each object, complementing the bi-directional navigation pane. It includes new icons to help you distinguish between Sets and regular objects, with toggles when deeper navigation is available. It can be fixed to the side or automatically hidden for distraction-free writing. The sidebar has the same sections (Sets, Favourites, Drafts, etc.) as Home.
Here are some handy features that you might like:
You can resize the width of the sidebar.
Right-click on an object will trigger the action menu: favourite, duplicate, move to the bin.
You can move your sidebar to the right side of your screen by clicking and dragging it across.
You can disable auto-hide and show mode for sidebar in Settings → Other
This is our very first sidebar, but there's more to come! We are going to release new improved Sidebar versions soon!
Search
The first rule of search is showing relevant results, and it's becoming an essential feature for many of you who have hundreds of objects inside. We've implemented many changes and updates, which we hope will radically improve your search experience.
Better matches. You can make one spelling mistake in the Title and zero in the object's blocks. Before, we had two and one, respectively, which resulted in messy and irrelevant results. As an example, we showed Space for search for a Page.
It will work by crossing results. Before we summed up the results and searching for word abracadabra returned word matches.
Search with a partially written title will always show a match. The In will show The Infernal Device. Thanks, kEbZeCK.
You can also find objects with prepositions, definite articles like the, in, me, our… etc., in the Title. Anytype will ignore matches in the blocks.
Better indexing for Notes object-type. The document's first line is treated like the Title of another type.
Deleted objects are no longer in the search index. They were breaking results.
You can find modified objects' content immediately. Before, it could take a minute to re-index, and they weren't present in search results.
C# programming language and A* search algorithm also can be found. The search was ignoring such symbols before. Thanks for finding this, triangles
New features
Anytype will instantly apply changes on iOS or Android for opened Set, Sidebar, and Home Tabs. There is no need to re-open them to see new objects; they will load on the fly.
We changed the interface for the object's cover. It now has a new tab to drop an image and will stop adding images randomly.
Table of contents block. Write /tc to add generated links to all headers in the object.
Locked pages. You can lock your objects to prevent accidental editing and enable read-only mode for all devices.
Right-click on the row in Set will show the actions menu. Just like the sidebar!
Other notable improvements and fixes
Set changed 'Object type' back from 'Task' to my type (self-created type) after restarting the app. And the Views for that Set were gone then. Thanks, turquiseblue
Formatting issues could happen when pasting text into the Title of Toggle. Thanks, sahilstudio
Low-Resolution Taskbar Icon in Windows. Thanks, Pretzel
In full-screen mode on Windows, the top panel will be hidden and shown automatically after moving a mouse to this area. Maximize button should make change the window to full-screen with the system bar. Full-screen is now accessible from the Window menu. Thanks, rdinamaztura
One more fix for Anytype re-opening after getting into the system tray in Windows. Closing the app may didn't end the process. Thanks, asterixix and sambouwer
Drag-n-drop. The nested structure cannot be moved just under a nested structure. There was a possibility to drop in under, but not inside.
Drag-n-drop. Drop into the block with nested block into the first place resulted with positioning latest.
Adding / as a symbol in text with URL link moved it further.
Changing the width of object layout could lead to inconsistent block's image resize
The Changelog window showed up before an update. Thanks, kEbZeCK
Pop-up window to select a cover stayed on the screen even after navigation to another page/object. Thanks, edwin
Pressing CMD+Z after changing object type could lead it not to revert.
The description block in the featured relations section will only come if set in Template.
Print missed part of the text coming under page brakes.
The slash command completion sometimes sorts (and therefore completes when pressing enter) types that only contain the searched word in a description over types that have the searched word as their Title. Thanks, minion
LaTeX jumped back to the start if you typed a command correctly. Thanks, Skyler
Loading spinner for new profile picture was misaligned. Thanks, Sam.
If you type \\ and press Enter, the carriage jumps to the beginning of the LaTeX Block. Thanks, nopapi
The \\ command in LaTeX makes a newline. This command wasn't included in the LaTeX autocomplete menu. Thanks, Skyler
After creating a new block and using Ctrl/CMD + Shift + Arrow to move it, the text just typed could become deleted. Thanks, QuantumJump
When hitting Ctrl + Alt + O to open Graph view on Windows with a UK keyboard, with a textbox selected, Anytype typed a ó key. Thanks, QuantumJump
Sometimes two blocks weren't separated. Thanks, XxxBalCion
Ctrl/CMD + Click on the empty part of the Link to object block open it instead of selecting.