Hello there,
Welcome to the first in a series of monthly updates from the Anytype team. Each month we'll compile the latest updates from our development team, founders, and marketing.
As always, we appreciate you being a part of this journey with us. We are all living through unique times right now. Thank you for taking some time to help make Anytype better.
Speaking of unique times. Despite being a distributed team, several of us have found ourselves on the wrong side of the novel coronavirus. Thankfully we have all fully recovered, and are glad to be back.
/dev/log
Databases are the major feature of our development roadmap. Databases, data views, and templates — we believe — represent features which are critically needed before we can release the product to a wider audience. Rest assured, we are working around the clock to bring these to Anytype.
Next up, I predict this next feature will be an instant favourite amongst our alpha users.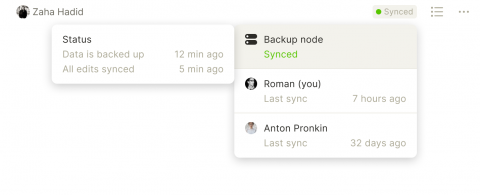 I'm happy to share that we are indeed working on better displaying your sync status in Anytype. No more monitoring packets in Network Utility!
Product development isn't always a linear process. Sometimes we discover bugs in the libraries we use. In this case, [libp2p](libp2p · GitHub), the IPFS networking stack which Anytype uses can't successfully handshake between peers. We'll be spending some of our time this month contributing a solution to this problem.
We are also building some smaller quality of life improvements to the Anytype desktop, including updating the navigation screen to support objects. Direct markdown import/export is coming. Soon users will be able to delete objects and pages from their device and IPFS. Finally, we are working on faster & less resource-consuming data encryption and will release it very soon.
Android is progressing, and we thank all our alpha users for their active use, bug fixes and feature suggestions. We'll be opening the alpha cohort up to more users coming soon.
"What about iOS?" I hear from you. I love the Pixel, but my heart shall remain anodised in aluminium. While we just (internally) released version 30 of Anytype for iOS 0.1, it would be disingenuous to say we are making progress. Resource-wise, we are already quite stretched between Android and desktop. So…
We're hiring!
Our team is growing. We are looking for a Senior iOS Developer to join us. We're a distributed team, but our ideal candidate would be based ± 3hrs from Central European Time (Amsterdam, Berlin, Rome).
If you are interested or know someone who could be a great fit, please feel free to reach out. To apply, simply send your CV to hello@anytype.io and someone will be in touch with you.
The thread of the month:
Our favourite thread on the community platform this month was a feature request for tree-style navigation with a sidebar from @Oshyan. https://community.anytype.io/t/-/976
What do you think are the best approaches to navigate through graph databases? We would love to hear from you.
Back of house marketing updates:
The Anytype community continues to grow on both Telegram and Twitter. I would best describe this is as "compounding growth." As we make incremental improvements to the product, and open more to the public, more of you are joining. Welcome!
Community platform updates:
We are now ~2 months into the community platform and I'm delighted with the response so far. Its usage has far exceeded my expectations. I know the current community platform is missing some features. But I would love to know what you think we're missing. You can reach out directly: enda@anytype.io