Description
When adding an image block to a page, I often want to provide either some description of the image, or add details which aren't described by the image itself; what song was playing in the background at the time the image was taken, for example.
Adding captions as a property to the image block would facilitate this functionality in a way in which many users of other tools are already familiar. Captions would also be a useful source of alt-text for the vision impaired.
Describe the solution you'd like
I would like the ability to add (and delete) caption text to image blocks inside Anytype. Captions should be associated with an image, and when populated, be rendered in close proximity to the image within the user interface.
I would like to see captions be able to be added as an inherent property of image blocks, perhaps via the object menu: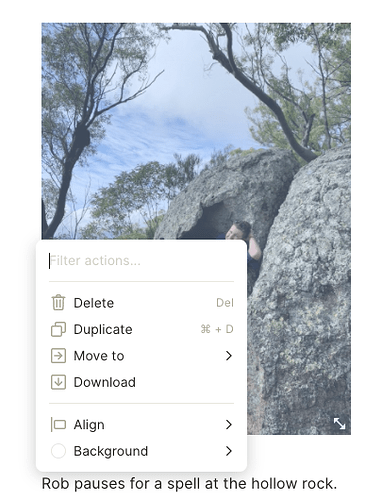 Describe alternatives you've considered
Currently to achieve a "caption" like experience, I'm simply using text blocks directly after the image in the same column.
Why is this not an appropriate solution?
A caption should be logically associated with an image, and in fact may not make any sense without the content of the image. By using the "caption like experience" I describe above, the text block below is not actually linked to the image, so any movement of that image does not include the movement of the text block "caption".
Additional context
Below is an example of how my "caption like experience" works, using a text block: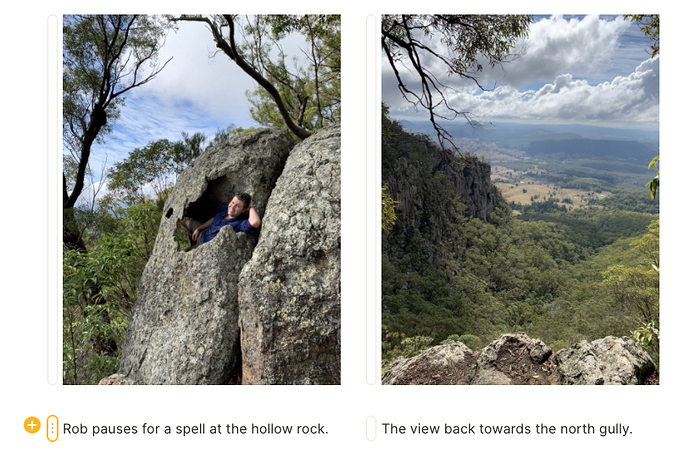 In Notion, this is achievable with an actual caption, which appears as such: