I've just noticed this issue, and couldn't see any other mentions of it.
When pasting Markdown content that contains code blocks, whether fenced or inline, the asterisks get stripped out. This is an issue because the asterisks can be meaningful parts of the code, so it's easy to miss that crucial information is being lost.
Here's an example, with the Notion source on the top and the result of pasting into Anytype below: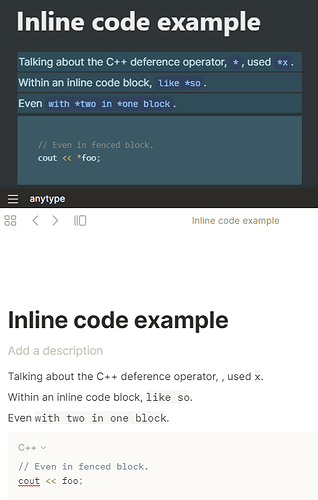 The asterisks are preserved in [the Markdown Notion is putting on the clipboard](https://i.imgur.com/BXAHvGO.png).
Pasting the Markdown from a text editor preserves the asterisks (and the language flag for fenced blocks, which pasting from Notion doesn't), [but doesn't trigger the Markdown rendering](https://i.imgur.com/CnRGx7M.png).
This is on Windows 10 (19042) with Anytype 0.18.28.
Note by @Flip: Still in 0.29.0
[Here's the Notion page, if anyone wants to try it and see what happens on other platforms.](https://www.notion.so/ryanplant/Inline-code-example-539872e160534f4ea4a506fa81179727)