Is your feature request related to a problem? Please describe.
No
Describe the solution you'd like
When you make a File Set with the default File type you get a nice grid view of all the files you added to your Anytype (added with the /file command).
When you click a file you get a pop-up with the title of the file, size, a download button and a huge grey space with in the center the file extention icon. (see image below)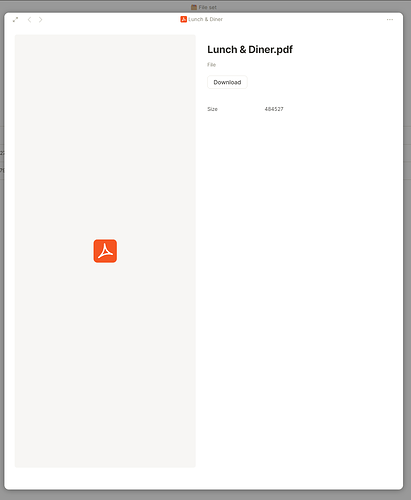 This huge grey space should be used to show the file for extentions such as PDF and images (and perhals more). For example show the image scaled down or the PDF where you can browse the pages of that PDF without downloading the file(s).
This will make the File Set much more usefull.
Describe alternatives you've considered
There is no alternative, you can only download the file to view it.
Additional context
There could of should also be an option to see the file full screen or at 100% of it's original size.
EDIT: This pop-up should also appear when you click on the file on the page where it has been added.
And one last addition is that this pop-up should also show an overview in which page (or pages) has been added!