When trying to download latest incremental update, process starts but after approx 10MB it fails with Error:net::ERR_CONTENT_LENGTH_MISMATCH.
To Reproduce
Steps to reproduce the behaviour:
Start Anytype

Click on Anytype menu

Click on Check for Updates

When prompted confirm you wish to Update

Download starts but fails after approx 10MB
Expected behavior
Approx 246MB update fails to download
with the above-mentioned error.
Desktop:
OS: MacOSX 10.13.6
Device: Apple MacBook Air
Version: 13" Mid 2011
Additional context
I ran it with direct connection as well as VPN to UK and VPN to Germany with the same results. The only possible contributing factor is that internet speeds are currently poor as I am currently in a rural area of the Philippines connecting via LTE, but this has not been an issue with previous updates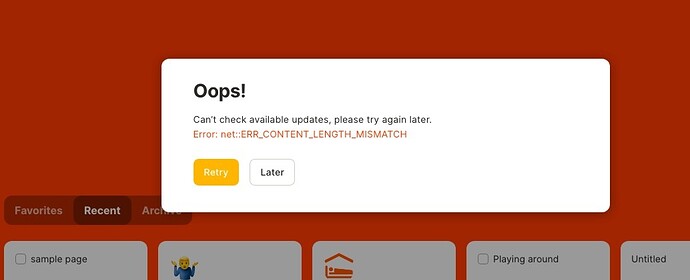 .