Describe the solution you'd like
I'd like to propose a feature that I can only describe as a tooltip of some sort. When writing a document consisting of several technical terms or anything really, I'd like to know if it would be a possibility to change a specific word to contain a tooltip holding information regarding that specific word/sentence, like a definition.
When you click the specified word containing data, a popup/tooltip would show, showing you the data that the word contains.
I have no idea how this data would be stored in terms of objects, types, relations, etc.
I thought the best way to get an accurate depiction of what I mean, would be to make a simple sketch: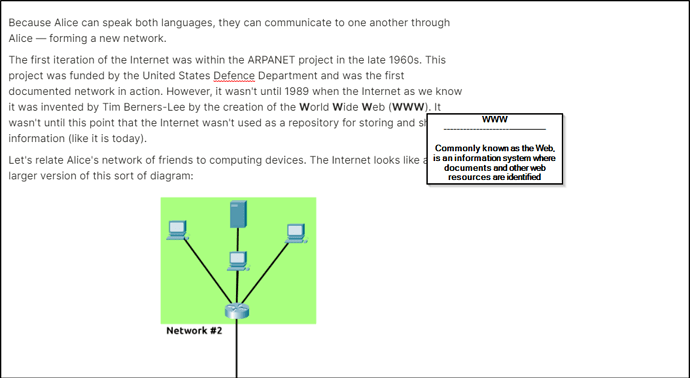 One way this could also work would be to just do as stated below (create a "link to page" named after the specified word), but also have a sort of preview of the object, as a popup/tooltip shown in the sketch.
Describe alternatives you've considered
When typing out a word or sentence that you would like to contain some other data like a definition, you could simply make a "link to page" that is named after the chosen word/sentence.
Then that page would hold all the necessary data you would like to be connected to that word.