Describe the bug
I have a set of objects which have a "tag"-relation populated. But this tag-relation is shown as empty in the set-view.
To Reproduce
I don't have a way to consistently reproduce this yet. All I can say for now is that I played around with creating my own type with relations. There are duplicated relations in a few objects of this type which I can't seem to delete because they seem to be synced back in to the objects after trying to delete them.
Expected behavior
When the "tag"-relation is populated in an object, it should also be displayed in the set-view.
Plattforms
This doesn't seem to be device or platform-specific because this happens on all my machines.
Machines:
Linux Gentoo with Anytype 0.18.57
Android 10, OxygenOS, OnePlus 6T with Anytype 0.2.3
Linux Manjaro with Anytype 0.18.57
Windows 10 with Anytype 0.18.57
Additional context
"Laufzeit/Dauer" is the tag-relation with the issue. This happens with all the objects in this set.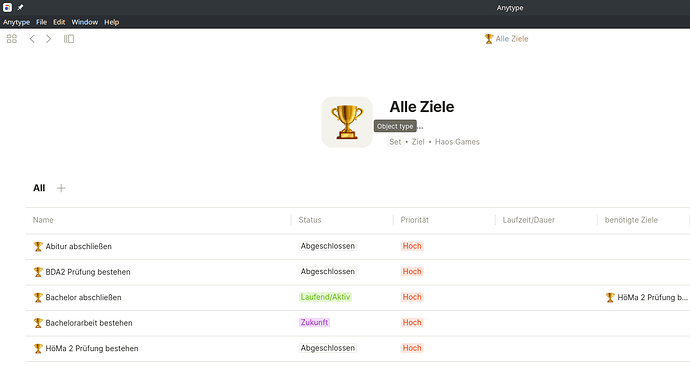 Edit
Forgot to put this into the Bugs Category.