This may be a bug or a UI request…
Describe the bug
When in windowed mode and at smaller window sizes. Selecting a template hides the navigation, making it so that you can't navigate back to the previous page or to the home page.
To Reproduce
Steps to reproduce the behavior:
Go to 'Library'
Click on any 'Template'
Click on 'Template' in the 'Type'
Top navigation is missing at this point. The top of the window has the message "This template cannot be changed, because it is Basic for this object type."…
Expected behavior
I would expect some sort of navigation to still be available.
System Information:
OS: Windows 10 19044.1415
Device Manufacturer/Model: Dell Precision 5530
Anytype Version: e.g. 0.23.0
Additional context
I understand I can use "Alt +

", but sometimes I don't have access to my keyboard.
Navigation missing on smaller width window (width < 1200px):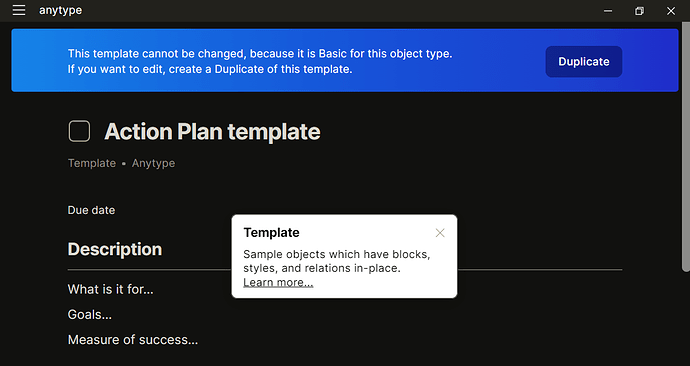 Navigation present on larger window (width > 1200px):