Describe the bug
When the app is in maximised screen, it acts like it is in full screen. This means that (since I use a disappearing task bar) I cannot access my taskbar or receive certain notifications when using the app in maximised mode. It is still a windowed application however, so it does not look like it is in full screen, only acts that way.
Furthermore, the button does not actually change to indicate whether the app is currently maximised or floating. This is confusing to explain by text so I have attached a photo of how the button looks while in floating mode, compared to how the same button looks on other apps in the same mode, to show you what I mean.
This is how the buttons on anytype look when the app is floating.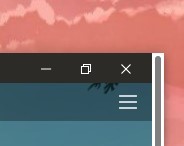 This is how it looks on other apps in the same mode.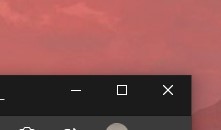 To Reproduce
Click the restore / maximise button at the top right hand button next to the x button.
Expected behavior
Maximised mode should not function as full screen. So, I should still be able to bring up taskbar and see notifications when I am in this mode.
The button should also change to indicate which mode the app is currently in, floating or maximised.
Desktop (please complete the following information):
OS: Desktop
Device: Windows 10 laptop
Version: 0.18.58