Problem
When a file is added to Anytype we see a small icon, the file name and the file size, but no preview.

Perfectly sufficient in most cases and space efficient, but in some contexts a preview would be preferable to provide more information to the viewer and to allow for prettier layout of files.
Solution
An option to "Show file with preview", which would then generate and show a large icon representing the first 'page' of the document. Perhaps with the file name and size as a caption below.
Maybe something like: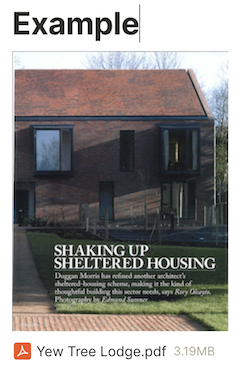 Alternatives
A nice alternative would be similar to the Preview Pane in the Finder on Mac, whereby you can click through multiple pages of a preview icon.
Additional context
While this would require a fair bit of integration, PDFs seem like the obvious low hanging fruit to get the ball rolling.