Describe the bug
I cannot log in from the Android app using the QR code or the keychain phrase.
To Reproduce
Steps to reproduce the behavior:
Click on 'Login'
Click on 'Scan QR code'
Open Setting and then Keychain phrase in Anytype Desktop for Windows
Scan QR code
See the following error:
Error whille account loading failed to fetch remote accounts derived from mnemonic:
rpc error: code = Unavailable desc = connection error: desc = "Transport: authentication
handshake failed: x509: certificate has expired or is not yet valid: current time 2022-01-28T03:57:46Z
is after 2021-09-30T14:01:15Z"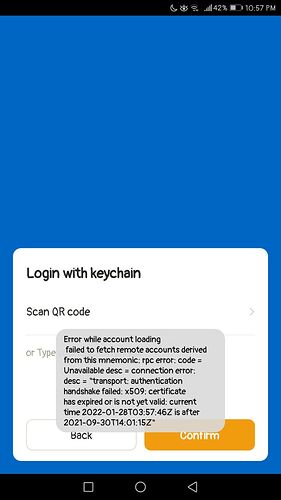 Same error happen when I try to log in using the keychain phrase.
Expected behavior
Log into my workspace.
System Information:
OS: e.g. Android 7 and Windows 11
Device Manufacturer/Model: e.g. Huawei Nova Plus and Huawei Matebook D15
Anytype Version: 0.5.2