Describe the bug
Trying to login on Android using either QR code or keychain phrase is faced with an error reading "Error while account loading - handshake failed" Please take a look at the screenshot below.
To Reproduce
Steps to reproduce the behavior:
Open Anytype on desktop (mine is Linux) and login

Go to Settings > Keychain phrase and click on QR

Open Anytype on Android

Login > Scan QR code

See an error
!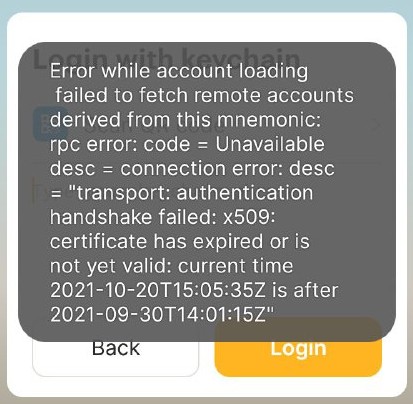 Expected behavior
I would expect Anytype will open and sync with my content in my account.
System Information:
OS: Android 7
Device Manufacturer/Model: Samsung S7 Edge
Anytype Version: 0.3.2
(hamburger menu at bottom of screen on mobile, "About Anytype" from "Anytype" menu on desktop) Since I can't login to my anytype on Android, I couldn't see the gear icon, so I looked at the apk file I used to install the app.
I searched the forum before posting and found [this](Login problems with Android, now Windows) but it's not related to my issue.