Deletion
Say hello to our most incredible innovation since object creation: object deletion. Anytype now supports the permanent deleting of objects!



. Moving objects to the bin will remove them from navigation. From the bin, you can choose to select, delete, and restore your objects. This action is irrevocable, so please be careful.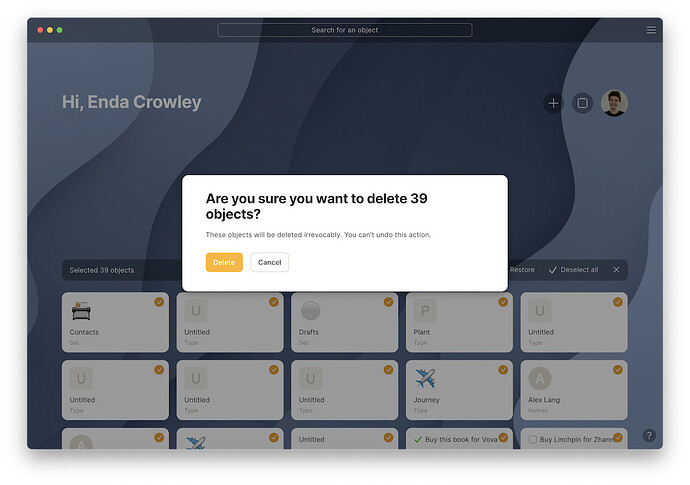 At present, only objects created inside Anytype can be deleted. Other files like media, and those that come with Anytype (types, relations) will be supported in future releases.
New defaults
Speed and convenience are central to this update. Drafts have been replaced with a new default type, the Note. Designed to capture thoughts quickly. You can now choose any type of object as your default type in Settings, so can be Note. An update we hope will provide you with even more customization and workflow options.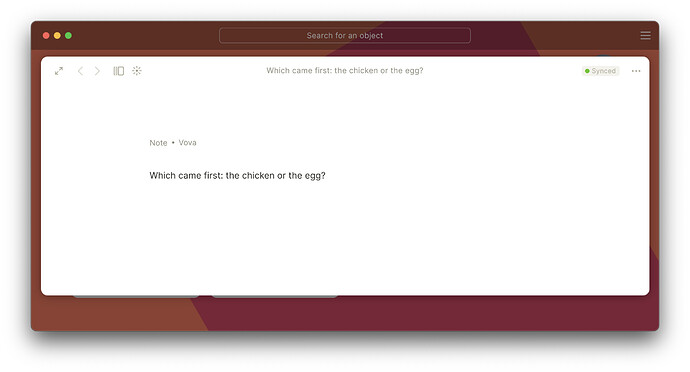 Sets creation
You can now create a Set from the dashboard, via + using the bottom-left + button, or even in-line using the / menu. From there, you can choose which type of object your new Set is for. For example, viewing your current projects, or building a reading list of books.
Darkmode
Just in-time for winter, our long-awaited dark mode is here. This feature has graced our devices (and eyes) in recent years, and has really become a way of life for some. Night owls rejoice! To enable dark mode, simply open the Settings pane, navigate to other settings → theme → and choose Dark.
Fresh docs
We've launched a brand new hub for Anytype docs. You can find it in the + menu and in the ? icon at the bottom-right of your screen. This is our first draft, and we look forward to your feedback!
Text with link to an object
There was a way to add an arbitrary URL link to a text selection. But now you can make a link to any Anytype object this way. Just select the part of the text, click the link icon and choose! Thanks, Oshyan, for your proposal!
Enhancements
PDFs now open inside Anytype, with their own file-type for building Sets. You can use the block's menu in the editor and just click on a file in sets. Thanks, Gabi and Florencia, for your feedback!
You can now open and create a set from the featured relations pane.
Page, Note, Set, and Task are now featured in type selection. They are the most used types, so they will become more accessible.
You can change views position in sets (finally!)
Anytype now shows a preview of an object when mousing over a link or mention.
We've added brand new gradient wallpapers that look very fantastic!
Full-text search now works for pre-built objects.
You can now open an URL by clicking while holding the Shift key. Thanks, qualquertipo
Search box height is now adaptive fitting results with no extra space below.
Relation's name in Graph mode is now always readable in the expected direction. Thanks, michaellw
Narrow the sidebar in Graph View. Thanks, lynxlove
Better graph search highlighting. Thanks, lynxlove
Bugs
Anytype rarely failed to create set. Thanks, Srinath, turquiseblue, vanntile, Eban.
Changing the set filter from "is done" to something else resulted in a crash. Thanks, sahilstudio
Clipboard stops working while working with blocks.
Copy and cut from the title was not getting the right content.
Pasting a link to create a bookmark crashes Anytype. Thanks, Tanzeel098
The date relation filter wasn't working with time. The last added object may be ordered not as predicted.
Some of the emojis with numbers weren't displaying cross-device. Thanks, faraaz
Words/Sentences were getting duplicated or missing when selecting it with Ctrl + A and pressing Enter on created objects. Thanks, Sedulous
Having two filters with the same relation changes the first condition to "All". Thanks, quietwalker
LaTeX: When the carriage moved from the end of the list to the beginning or from the beginning to the end of the list, the focus on the element disappeared
In history mode, there was a possibility to change featured relations.
Cards linked objects had a residual overlay when empty. Thanks, AyneHancer
Enabling Show Icon in Grid View cropped the Page Name. Thanks, lynxlove
The gallery view sometimes cut the last relation value.
Image viewer showed scrollbar. Thanks, kEbZeCK
When you pressed Enter to open a page using the navigation pane Anytype was inserting line breaks. Thanks, Tim-Luca
An image added to the file relation could break the work of the file list in the relay.
There was an inconsistent movement for nested blocks using CTRL+SHIFT UP/DOWN. Thanks, qualquertipo
When creating a new object from a Set, edit its name. If the cursor was moved, the revised text was also moved in the direction of the cursor. Thanks, lynxlove
Relation Numbers could store non-numerical symbols.
When switched the month in the calendar in the Date relation, the date could be reset to 1970-01-01
Sometimes relation focus could stay on a previously selected cell in Set.
Selection could freeze when was working with nested blocks. Thanks, qualquertipo
Welcome to Anytype showed after login and not only after registration.
Shortcuts view opened while working with an object in a modal window closed the object.
Hints weren't centred relative to the object to which they were displayed.
Sometimes when the custom type was opened, the templates weren't showing.
App crashed after clicking "Cancel" in the Navigation pane. Thanks, HaosGames
Changes have been made to relation name could not update everywhere it was used.
When pressed ctrl / it with now carriage inside block app selected all the content text, but weren't working for further actions. Thanks, Srinath
Link preview could be stuck on the screen. Thanks, jimkleiber
Template preview could also be stuck.
The search wasn't working in the graph. Thanks, Tanzeel098
Background default colour swatch showed as black (should be white). Thanks, qualquertipo
A lot of minor UI fixes while working with relation value in Set
Bookmark Preview got cropped on Higher Layout Widths. Thanks, lynxlove
No extra space was added to the template formula. So switching the LaTeX Template formula multiple times resulted in a syntax error. Thanks, lynxlove
Objects created from Set weren't focusing the text cursor on their name. Thanks, Kite