I use Roam and Roam-like tools (e.g. Logseq, Obsidian) and one feature they have that I really love and miss when using many other tools (like Notion) is the "sidebar". What this lets you do is open one or more additional pages alongside a current, "main" one. You typically just hold Shift and click a page link and it opens on the right, rather than in the main content. Here's a screenshot, although I'm sure most people are familiar with it by now: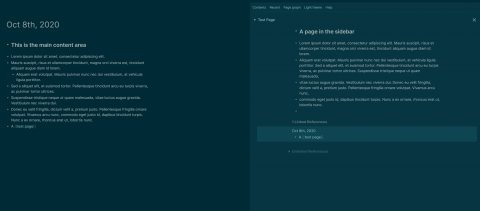 The way I imagine this working in Anytype is the default "narrow" width page version would just open in a UI pane to the right of the UI, just like in Roam. And ideally it would allow having multiple pages open like that, shown linearly in order of when they were opened, one above the other, obviously with some separator, maybe some controls at the top of each page (e.g. close view of page).
Additionally it would be brilliant if blocks could be dragged-and-dropped between the "main" content area and the sidebar!
Logseq is free and so is a good way to test this functionality and get some ideas how it might best work: https://logseq.com/